16 websites for free High Quality Stock Images
Starting off for the search of images, especially if what you desire should be free and of high-quality, can get to your nerves. But not when there are photographers out there not wanting you to settle for anything but the best for your logo, posts or for your sheer pleasure; and they are making sure you are spoilt by choices.
We have hitched together 16 amazing sites for stock photos for you to explore and find your own special favorite.
Browse through Pexels for an array of free and high-quality images. Pexels keeps up with the good work of "Empowering Creatives" as they call it.
The 'browse' tabworks make your search simpler with filteroptions like Popular Photos, Popular searches, Leaderboard and Photos by color.
Nearly 3000 photos are added every month. All the photos you find on Pexels are covered under the CCO license, making them free for personal and commercial use without asking for permission!
Pixabay is the perfect paradise for more than 850k free stock images and vectors seekers. This has made it to our go-to image website list.
Delve more into the world of mesmerizing photography with 'Editor's Choice'. If you happen to be on this site, you shouldn't miss exploring the world of beautiful backdrops under Backgrounds/Textures section.
The vectors, images and illustrations, that are visible on Pixabay, are registered with Creatives Commons CC0 license. You can put them for personal or commercial use, anytime. Could we be happier?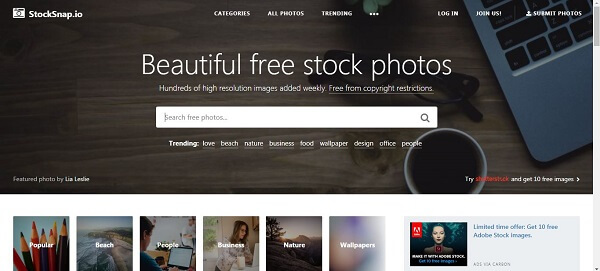 Browse through Stocksnap for breathtaking high resolution images. Notably for this resource, hundreds of new images are being uploaded every week. Following which, if you want to look up for new trends, this site is just the right place with the prominent 'Popular Searches' and the 'Trending' sections.
All the photos on Stocksnap fall under Creatives Commons CC0 license.
Get images that emote with Unsplash. Its teams and curators rummage through hundreds to feature 10 photos every 10 days.
Unsplash sure believes in getting to you exactly want you want with serving you approximately 40 topics to choose from under the 'explore' section.
This site releases all its photos under Creatives Commons CC0 license; edit, modify or use as it is!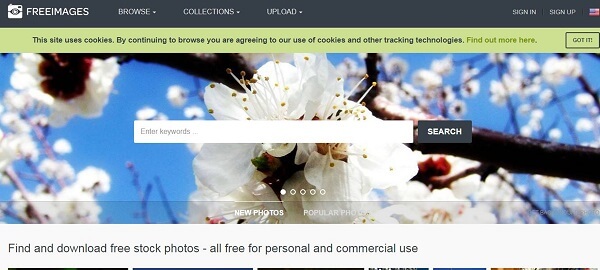 Dive into the classifications of Free Images, from Business and Science to Arts and Design. It makes sure to get all of what you need under one roof. Browse through their New Photos and Popular Photos sections to get your hands on some exciting creations.
They believe in the magic of antiquity and of transporting you to the world that used-to-be. If history feeds your needs, get ready to be awed as you scroll through their vintage and historical photos.
The black and white vintage collections are brought in from the public archive via Flickr Commons, free from any Copyright restrictions.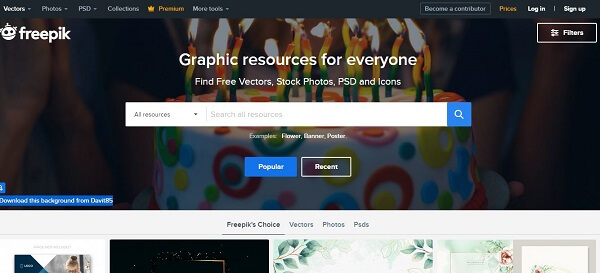 Freepik is the leading resource and website for free vector designs. It also covers free stock photos, icons and PSD Files. Each of these categories contains a horde of filters to choose from. Browse through Popular Vectors and Latest Vectors if trendy vectors are what you are looking for.
While vectors and photos on Freepik are free, it does require you to credit the author of the illustration.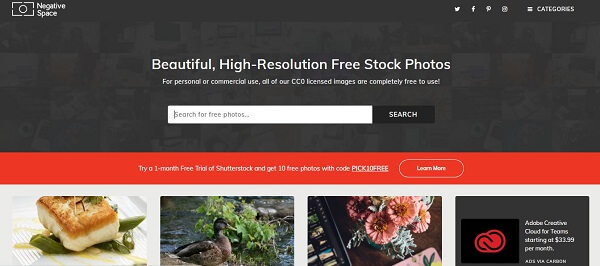 Sieve through your options with Categories, Color and Copy Space Position for numerous free images with Negative Space. Search for the images you need or browse through the fresh content that they have to offer.
Here new photos are added every week, each of which are licensed under CC0 and free from any copyright restrictions.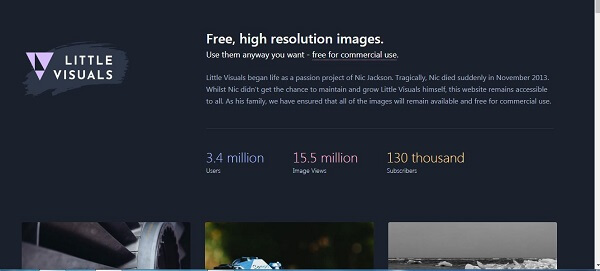 Little Visuals is a definite treat for your eyes. Rifle through its image clicked in ways, unthinkable. These operate on comparatively smaller scale, making them personal and special.
Sign up for 7 hi-resolution zipped images to be sent to your inbox, weekly.
Use these impressive clicks in any way you like; they happen to be licensed under Creative Commons CC0!
A site that believes in building the community of photographers, it offers extensive range and concepts of photos from a new photographer every week.
Explore Life of Pix for a wide range of interesting and refreshing high resolution images.
Life of Pix presented by Leeroy Advertising Agency, offers no copyright restrictions on the use of its images.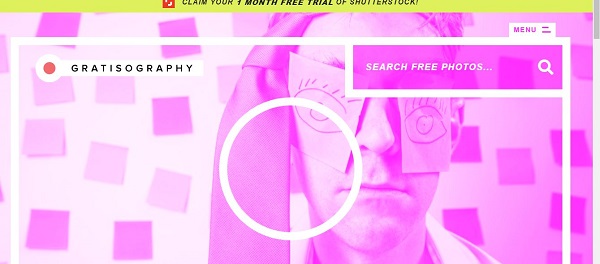 Enjoy the genius photography of Ryan McGuire with Gratiosgraphy. It's funny, it's quirky and it's never seen before. Swift your way to your desired image with filter options like Animals, Nature, People, Whimsical and the like.
Enjoy this brilliance and a whole new perspective for free. New photos are added every week. All of the uploaded images are licensed under Creatives Commons CC0; use it in the way you wish without attribution!
He observes it and he captures it in ways that is exquisite and unimaginable. Explore the scenic wonder of Jay Mantri from the website that goes with the same name.
All of the clicks of Jay Mantri are free from any copyright restrictions.  "Make Magic" as the website says.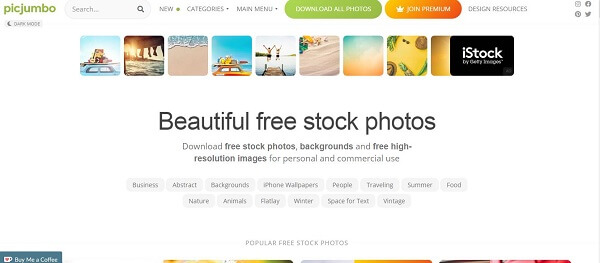 Picjumbo offers you wide variety of photos, put together by a young photographer- Victor Hanecek. Take your pick from over 15 categories to suit your requirement.
Pic Jumbo covers photos that are free, of high resolution and perfect to fit in your blogs and websites.
Welcome to the world of photography by Karolina. Kaboom Pics makes your photo search simpler with filters such as abstract, fashion, architecture and the like.
Kaboom covers photos that are free to use, attributions being preferable. It however requires permission from the author to publish or to redistribute the photos.
If vectors are what you are looking for, All-free-downloads has to be on your go-to resource list. Explore this website and see for yourself the plethora of vectors to select from. Though it chiefly covers vectors, it also features other categories like photos, icons, templates, PSD, fonts, wallpapers, brushes, patterns and styles. Each of the above mentioned categories presents numerous sub-categories, all to make your hunt effortless.
The requirement for attribution is contingent to each of the vector or image you wish to download. This means, some vectors or images may require you to mention the source while some may be free for only personal use.
If you are looking for a large collection of non airbrushed and realistic images, Wikimedia is your answer. Wikimedia is a repository of millions of images collected over years from different portions of the internet. They mention in the source of the images and give rights to the relevant authorities making it easy for you to download and use the pictures as you may require.
Bonus Site: Good Free Photos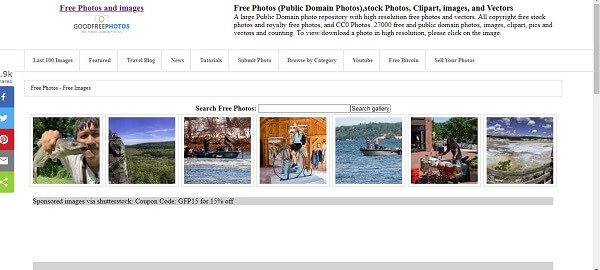 We couldn't stop ourselves from mentioning this beautiful website having a collection of more than 10, 000 images. All images are copyright free and royalty free and CC0 photos. This site has an interesting collection pictures that have a personal touch to them. This website also has a tutorial section where you can see videos on basic editing and photography. So, get your dose of beautiful pictures from the website and also learn how to click and present them.
Here's another great resource for high quality, free stock photos. We recently came across Pikwizard and found their library extensive and matching those of paid stock websites. It is also one of the only stock websites that also offers an on site editing tool.
Bonus Resource: Chamber of Commerce Find A Photo
Here's another great resource for searching free high quality, free stock photos. We recently came across Chamber of Commerce's tool to find free stock photos. Their tool aggregates photos from various free stock photo sites and shows results in one place.
Garner the engagement and attention for your content with the best image. Here's hoping the above list makes your search for photos, vectors and illustrations easier, simpler and an enjoyable process.